Insafe+ Origin Smoke Detector + Indoor Air Quality Monitor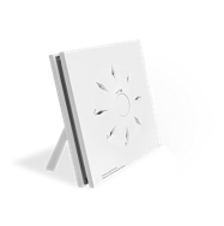 The Insafe+ Origin is a networked photoelectric smoke detector of the latest generation with integrated sensors for temperature and humidity. With optical smoke detection by scattered light (Tyndall effect).Thanks to its edge architecture and embedded IZIAIR algorithm, Insafe+ Origin calculates an air quality index that helps you take the right action.
Origin is a unique product for smoke detection and indoor air quality analysis in networked homes and residential buildings. An elegant detector designed to fit into any interior.
Applications:
- Safety in case of fire
- Indoor air quality control in dwellings and buildings
- Control of ventilation, heating and air conditioning systems
- Optimising the energy efficiency of homes and buildings
- Development of new services: home care for frail persons
- Optimisation, hygrothermal comfort, reduction of heating costs, etc.
DOWNLOAD Datasheet - Satelco Article number 11341