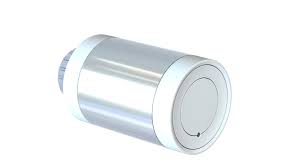 The thermogenerator converts the temperature difference between the heating course and the room air into electrical energy. The energy surplus obtained from the heating periods also enables operation in the transitional periods and in summer.
Energy harvesting uses ambient energy to enable maintenance-free operation without cables and without changing batteries.
Space-saving, lightweight and easy to integrate into existing systems. Available for all common valve bodies. Particularly suitable for stand-alone sensors and actuators in building technology.
Save up to 30% on heating costs!
Advantages:
- Maintenance-free system solution and maintenance-free actuator
- The system can be retrofitted to existing heating systems at any time without interfering
with the building structure
- Demand-led heating control in all rooms
- Compatible with building automation systems due to EnOcean radio standard
- Demand-led heating control in all rooms
DOWNLOAD Datasheet - Satelco Article number 10651