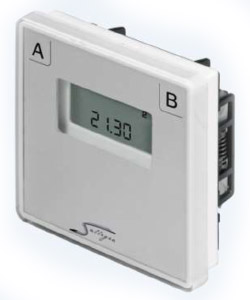 EnOcean® wireless interface with LCD display
Intelligent room automation with EnOcean® wireless technology
The Sallegra® wireless interface with LCD display is transmitter and receiver for EnOcean® wireless signals (bidirectional) and is used for the wireless connection of the transmitter and receiver for operation, control and adjustment of lighting, shading, heating, ventilation, safety, etc.

The wireless interface can be coded for up to 4 address ranges, and up to 16 EnOcean® devices can be covered in each address range.

Thanks to a frame which can be bought anywhere, due to its standard internal dimension, installation is quick and easy. The Sallegra® wireless interface is supplied without a frame.