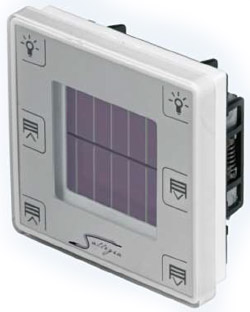 Control element with 6 buttons and EnOcean® wireless technology
Easy, inexpensive and flexible installation due to wireless technology!
The Sallegra® control element is used for room automation. It has six buttons and is used for setting of presence and absence as well as controlling the light, shade, blinds, hot/cold temperature, ventilation, etc.

The control element can be mounted easily and inexpensively because it is wireless and communicates via EnOcean® wireless protocol. No walls must be broken up and replastered.

The power is supplied through the integrated photovoltaic cell, thus no battery is required. The Sallegra® control element is supplied without frame, which can be bought anywhere due to the standard internal dimension of 55 x 55 mm.
Features:
Easy assembly due to wireless technology
Communication via EnOcean® wireless protocol
Supply voltage from integrated solar panel (battery operation optional)
Device is used with transparent front, suitable for frames with an opening of 55 x 55 mm
Individual adjustment of the room climate
6 button functions
Setting the operating mode for occupancy and control of a 3-speed fan
Light control On/Off/Dimming
Blinds control