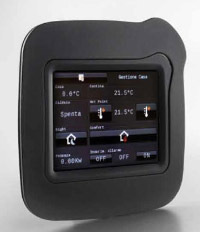 3,5" display in a designer plastic housing for visualization and controlling via KNX-Bus
The eelecta touch panel: powerful control in a distinctive shape. With a coloured display, dimming, status, values, lighting, shutters and timers are controlled and password protected when needed. Using the embedded temperature sensor
chrono or fancoil controlling functions are managed. DMX coloured LEDs or lights are controlled with the optional DMX gateway, and load control with automatic cut off of loads is performed with optional power meter. Based on Linux® OS and ETS programmable, the 3.5" touch panel is equipped with a LED indicator and a buzzer for alarm functions. Available in six different colours.
Features:
Switching and dimming of lighting
Display of the switching status in buildings
Control of various devices in the KNX-Bus
Handling of shutters/blinds
Alarm functions acoustic and optical
Display of motion detector alarms as plain text
Display and setting of heating control
Control of multi room audio-systems
Display of temperatures
Weekly time clock
Application examples:
Private homes
Buildings
Hospitality
Touch panel range colours: