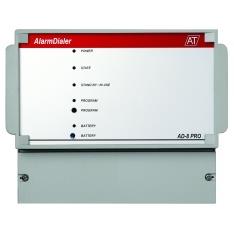 8 alarm inputs / 3 relays
Alarm repetition
Alarm acknowledgement
Different day and night destinations
With backup battery
Simple and clever alerting
The AD-8 Pro Alarm Dialer is a simple alerting system that can manage up to 8 alarm contacts. Separate messages and texts can be defined for each alarm. The 3 relays can be used to switch on and off various external devices.

In the case of an event the corresponding assigned locations are informed via voice, SMS or pager. If required, a relay can also be activated. The sequence of the alarm can be regulated differently for each input. Up to eight targets with different alarm types (voice, SMS or pager) can be assigned to the same floating contact.

A total of 20 storage locations are available for different alarm destinations. Depending on the alarm destination, the protocol type (voice, SMS or pager) is allocated. A target number can consist of a maximum of 16 digits.

If necessary, an external clock can be connected via the eighth alarm input for switching from day to night mode. To stop all alarms on site, an external button can be connected to the eight contacts.

The AD-8 Pro has a built-in battery support, thus the system is still available even during a power outage. If necessary, an existing connection can be connected to a contact so that the AD-8 Pro immediately outputs a message in case of an interruption.
Highlights:
Voice alarm with acknowledgement
Short message (SMS) (comprehensive information with max. 46 characters)
Pager notification (via 6-digit code or plain text)
Telephone siren
Day/night mode or emergency button
Remote control
Protected against power outages